Doug Wilson - PGA of Canada Life Member - written for My Muskoka Real Estate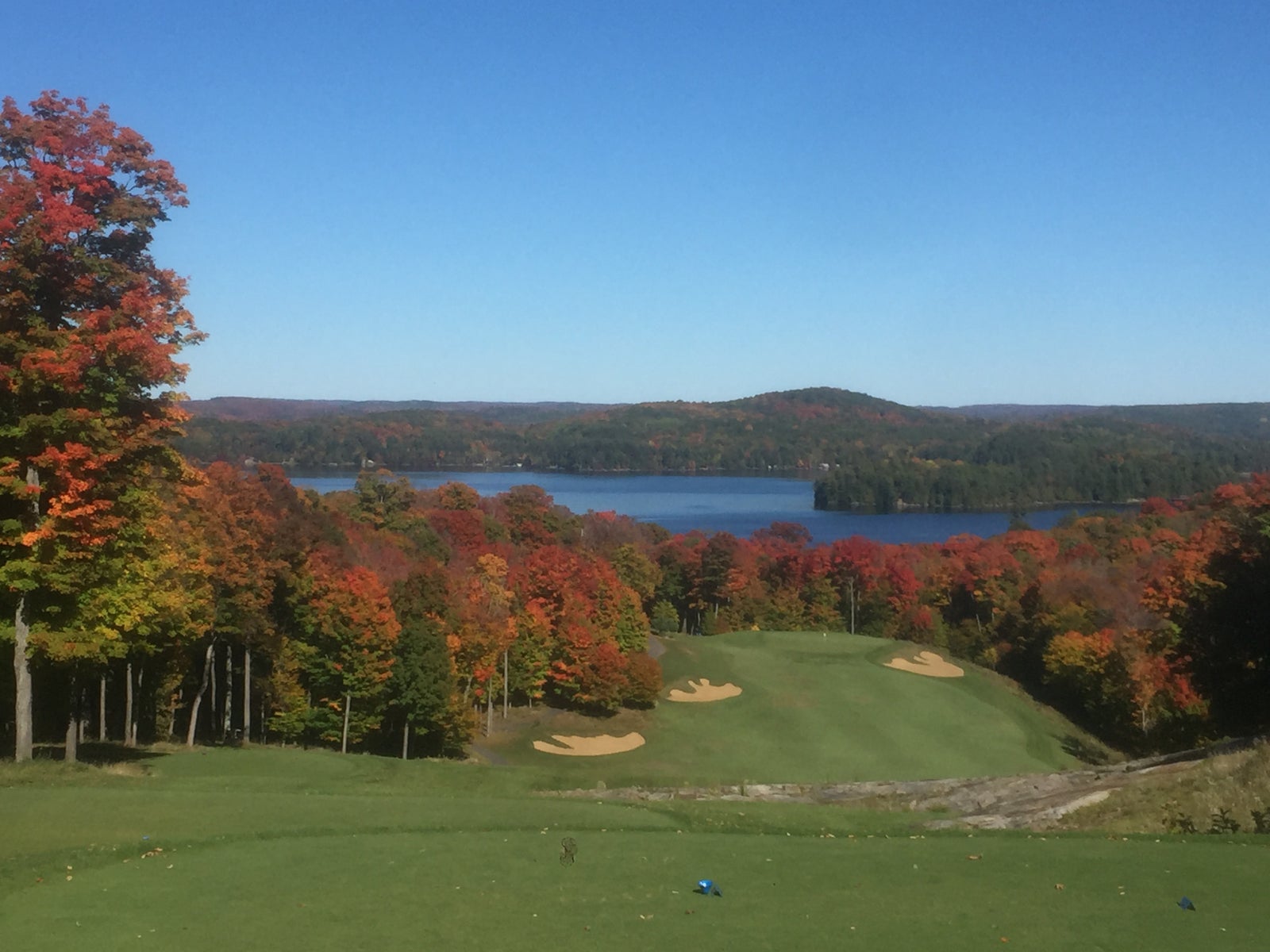 For the keen golfer, the proximity to a golf course or courses is extremely important to their real estate buying decision. The golf club will often become the hub of their social life and a place to meet new friends. The game itself provides exercise and time in the calm surroundings of nature. Real Estate Developers understand this and build beautiful homes/cottages along the fairways to attract the golfer. In Muskoka, you will find these real estate offerings at Bigwin Island, Muskoka Bay and Deerhurst. Homes also border the layouts at South Muskoka, Muskoka Highlands and Huntsville Downs.
When choosing a course what should you consider? Does it excite you each time you play it?
Recently, a good friend invited me to play one of the better courses in Toronto. We had a wonderful round, the weather was glorious, the course was in great shape and our golfing companions were interesting and fun. Looking back on our round however, I was unable to recall any single hole that distinguished itself from the rest. Sadly, none of the holes distinguished themselves as being memorable. 
Now there are many reasons that the memory of a hole will stick with us. From the historic walk across the Swilken Bridge on the eighteen at
The Old Course in St Andrews, Scotland
to being awestruck by the sheer beauty of the Rockies on almost every hole at
Fairmont Banff Springs
or
Fairmont Jasper Park Lodge
in Alberta. This presents a challenge. If we can view the magnificence of the Canadian Rockies on each hole, how does one hole single itself out and leave an indelible impression? Po
ssibly an inspired design by renowned golf architects such as Stanley Thompson, Doug Carrick or Thomas McBroom or it could be that we just played the hole well or it was an unforgettable disaster.
Muskoka is one of the world's best golf destinations providing an incredible choice of golf courses from fun nine holers to some that meet PGA Tour standards. With that in mind I thought it would interesting to reach out to some of my fellow golfing professionals for their opinion on the most memorable hole at their course.
"It's a great question" says Bruce Rogerson, Director of Golf at the 
Muskoka Bay Club
in Gravenhurst ranked 16th in
Score Golf's Top 100 Golf Courses in Canada 2018
. From a vista and pure beauty standpoint, Bruce  chose the opening hole at Muskoka Bay, a par 4, 441 yard gem named "Table Rock".
"Number one is such a dramatic start to our golf experience and it really sets the tone for what will follow.  A very elevated tee shot from the back tee through a narrow shoot that was blasted out of the side of a massive cliff.  It is the one spot where all golfers that visit want to either go up and have the view for pictures or take the tee shot just to say they did."
At Oviinbyrd, an exclusive Private Club ranked 17th in
Score Golf's Top 100 Golf Courses in Canada 2018
, former Executive Professional, Curtis Pitre picked the par 3 fourteenth hole which he says plays 198-yards from the member tees, but can be stretched to 230-yards from the back tees. The tee shot is downhill, to a generous green that is well bunkered. The views from the highest point on the golf course provide a feeling that can only be described as breathtaking . It sets the stage for the final four holes and can either make or break your round.
The decision at the Doug Carrick designed 
Bigwin Island
 Golf Club, ranked 20th in
Score Golf's Top 100 Golf Courses in Canada 2018
 is a difficult one with two of the most photographed holes in golf vying for top honour. Perched high above Lake of Bays, the views from both the 6th and 18th tees are spectacular. Vice-President, Dave Smith gave the edge to the 574 yard par 5, 18th as in his opinion it is the perfect finishing hole. "It plays downhill, the wind is generally behind you as well as the sun. It provides a good opportunity to finish your day with a birdie. What's not to like about that?"
Deerhurst Highlands
Golf Course
Head Professional Ryan Barry was in agreement with long time member Paul Evans who had no doubt in choosing the 375 yard par 4 first hole at this Huntsville beauty co-designed by Bob Cupp and Thomas McBroom. You can easily be distracted by the incredible view of Fairy Lake as you contemplate your first tee shot to this downhill fairway. According to Paul "It definitely sets the mood for a great round." 
At 
The Rock Golf Club
a Nick Faldo design located adjacent to The Rosseau, a JW Marriott Resort & Spa in Minett, Director of Golf, Katie Doyle selected the 422 yard dog-leg right par 4, twelfth hole as the one that is long remembered after the round. The elevation change and challenge of the hole are key. Katie advises that if you have played the hole before, you may choose to hit driver over the 50 foot drop to a fairly small landing area.  This risk will leave you with a short pitch up to a right to left sloped green. The safer, and far more common path would be a long iron or hybrid from the tee to get as close to the edge of the cliff as possible. This will leave you a mid to long iron shot down to the green.  
Head Professional, Mark Kerwin selected the eighteenth, a 563 yard, par 5 at the highly respected              
Rocky Crest Golf Club
 in Mactier. Mark believes it is a perfect closing hole. It presents an intimidating tee shot over a marsh but rewards a well struck drive with a chance to go for the green in two. Once you arrive at your tee shot you are greeted with a picturesque view of the log clubhouse which is most appreciated at dusk.
At 
The Grandview Mark O'Meara Golf Club
 in Huntsville, Head Golf Professional Todd Stephens chose the 420 yard, par 4 first hole and advises "If you don't typically spend time at the range before your round, we suggest you do at Grandview." This dog-leg right makes a statement right out of the gate…"Welcome to Grandview". The fairway is generous in size but a wetland area that runs along the entire right side protects the fairway. Getting your tee shot in play here is a must.
In summary, all 6 selections involved elevation changes while 4 of the 6 selections were either the opening or closing hole and scenery had the edge over the challenge. 
To add to your own list of memorable holes, play some or all of the following:
Bigwin Island Golf Club - Huntsville/Lake of Bays - Phone: 705-635-2582
Bracebridge Golf Club - Bracebridge/Baysville - Phone:  705-645-2362 - 9 Holes
Deerhurst Highlands Golf Club- Huntsville - 855-243-7013
Deerhurst Lakeside Golf Club- Huntsville - 855-243-7013
Diamond 'in the Ruff' Golf Club - Raymond/Bracebridge - Phone:  705-385-2222 - 9 Holes
Grandview Inn Golf Club- Huntsville - 705-788-9978 - 9 Holes
Grandview Mark O'Meara Golf Club - Huntsville - 705-788-9978
Huntsville Downs Golf and Country Club - Huntsville - Phone:  705-789-1000
Muskoka Bay Golf Club - Gravenhurst - Phone: 705-687-7900

Muskoka Highlands Golf Links - Bracebridge - Phone:  705-646-1060
Muskoka Woodlands' Golf Course - Footes Bay/Port Carling - Phone:  705-375-1026 - 9 Holes

North Granite Ridge Golf Club- Port Sydney - Phone:  705-385-0808
Parry Sound Golf Club - Parry Sound - 705-342-5262
Rocky Crest Golf Resort - Mactier - Phone: 705-375-4688
Seguin Valley Golf Club - Parry Sound - Phone: 705-378-2555
South Muskoka Golf Club - Bracebridge - Phone:  705-645-9096
Taboo Golf Club- Gravenhurst - Closed for  2020

The Sands Golf Club - Gravenhurst - Closed for 2020 - 9 Holes
The Rock Golf Golf Club - Port Carling/Minett- Phone:  705-765-7625
The Fairways of Kirrie Glen - Bracebridge - Phone:  705-645-4520 - 9 Holes

The Ridge at Manitou Golf Club - Parry Sound/McKellar- Phone: 705-389-9577
The Lake Joseph Club - Port Carling - Phone:  705-765-2000
The Lake Joseph Academy Golf Course - Port Carling - Phone:  705-765-2000 - 9 Holes
Windermere Golf and Country Club - Windermere - Phone:  705-769-3381