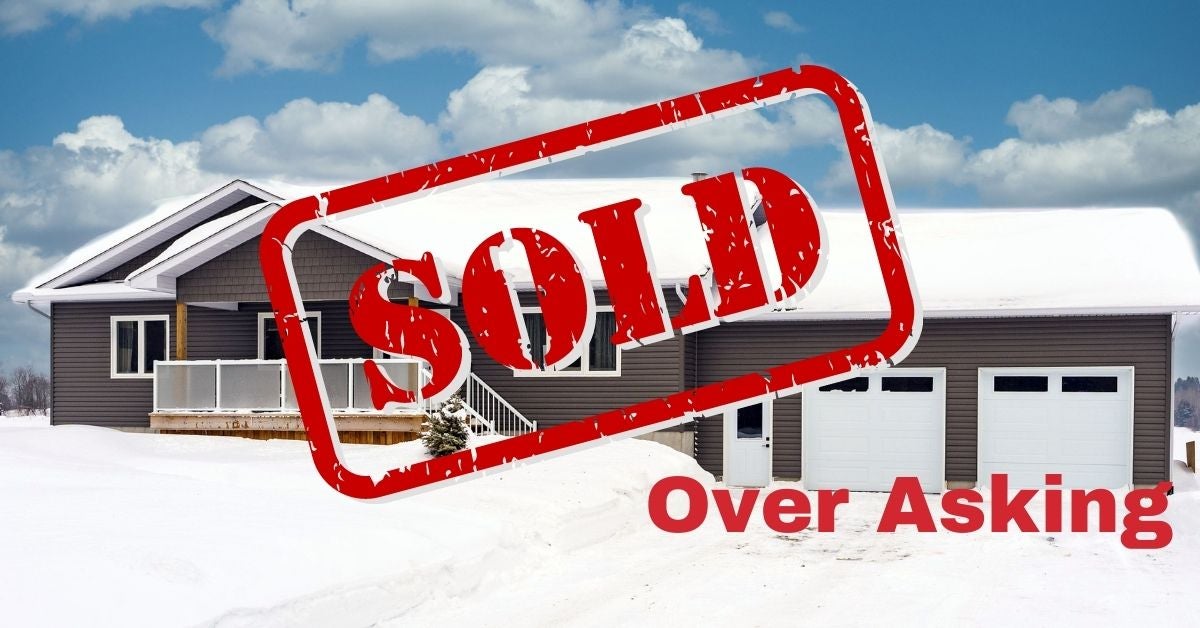 Muskoka Residential Real Estate Market Snapshot March 2021
We are a few months into the year and none of us could have predicted this kind of residential market activity here in Muskoka!
This goes for both
Waterfront Cottage Property and Residential Off-Water Property.
In a nutshell, it is frustrating for many Buyers, while on the on the other side, Sellers are walking away feeling like they've won the lottery.
(I jumped on board that "Sell Wagon" last month with an investment property - how could I not?).
I moved up here with 3 kids 21 years ago to raise them with a small town community life and breathe a little fresher air.
My friends from Toronto and Oakville (where I last lived) thought I was a little out of my tree. Now, however, they are singing a whole different song...
So, let's take a closer look at what's happening in the
MUSOKA REAL ESTATE MARKET.
SNAPSHOT STATS End of Feb 2021:
Residential Non-waterfront
- The Lakelands Board All Muskoka: (% changes are over last year)
BRACE YOURSELF            Average Sale $549,165 up 55.5%


FLATSVILLE                         New Listings - 120 (slim pickings) up 3.4%

BRACE YOURSELF            Average Sale $549,165 up 55.5%
SLIM PICKINGS                  Current Active Listings Down -59.3%

 

TIME TO SELL                     Number of Unit Sales Up 40+%

MOVING FAST                    Average listings are 11 Days on the Market

JOIN THE 100% CLUB      Average Homes Selling 102.4%-120% above asking price

BUY SMALLER?

                 

Per Square Foot Price $331 up 63%
DOLLAR VOLUME

           

UP 118%
It has to be said that it is not an easy time to be a buyer right now. Most solid homes that are listed at a realistic price, attract multiple offers, typically have a pre-set offer date, and are selling well over list price. The last beautiful home I sold went for 118% over the asking price with multiple offers, and all without conditions.
We all understand the current market forces - the pandemic era is prompting Buyers away from larger city centres into the smaller local communities.  
There are many reasons but the largest impact is mainly because they are able to work from home.

Our active listing inventory is being scooped up quickly.

 

This is happening all across the country.

 

Muskoka just happens to have fabulous communities and be a gorgeous place to live for an active lifestyle.  Being a few hours north of the Greater Toronto Area is a driving factor (pun intended!).
So, a little advice if you are in the Real Estate Market:
·

        
CHOOSE CAREFULLY:
Work with a STRONG, EXPERIENCED and COLLABORATIVE REALTOR who has been in the trenches in competition, who knows positions of strength for negotiating, and who has an excellent grasp of the current market so they can guide you with the right strategy to WIN.

  Negotiating skill goes beyond an offer; it encompasses good relationships between professionals, reputation, knowledge of the area, market forces, minute details on properties sold, and an understanding of motivations of Sellers in order to craft a strong position for their Buyer Clients. 
·

        
CONSIDER A DEDICATED BUYER REPRESENTATIVE
: 
A dedicated BUYER REPRESENTATIVE has their feet on the ground at all times and works with Buyers

 

100% of the time, so you do not miss an opportunity. A Professional BUYER REP will look after your interests.

  They will dig down and understand the motivations and priorities of Sellers in order to build an attractive offer.

(Our team has a great Buyer Rep – Scott Stewart and our clients love him! We are both Certified Negotiations Experts).

 
·

        
UNDERSTAND THE MARKET and PREPARE:
I
In the current real estate climate, PREPARE to compete with other offers that have few or no conditions, and make sure you watch for red flags on structures. A competent Realtor will navigate the process and ask for a recent inspection report, survey, well records, septic use permits and any documents that provide greater detail, so you have a thorough understanding of the property. Get your financing organized well in advance and if in a competition, bring your best offer forward - every time.

 Know your reserve price and your comfort zones.
Time is a not a luxury in a Seller's market when the Buyer's Pool is full. Know what you are looking for and where you are willing to compromise.  Rarely does a home or cottage meet your wish list, and most decisions are made emotionally and justified afterwards.  Be prepared and be decisive so that you can win in competitive situations.
·

        
THINK LIKE A BUYER:
I counsel my Sellers to take a Buyer's perspective where possible. The asking price should be set within reason and will bring Buyer eyes to the product. The aim is to get as many of the "right" Buyers as possible through the door who are actively looking.  These Buyers are typically qualified, serious and ready to compete. The Sale price of your property will happen by the law of supply and demand based on exposure through a strong marketing strategy.  A rule of thumb; the more value a Buyer sees in the asking price, the greater likelihood they will compete.  Avoid the overly underpricing route to drive greater competition as it is transparent and deceptive in the eyes of the Buyers.  The right price is one part of a good selling strategy, will result in a greater number of offers and provide current market value.
·

        
AVOID THE LURE OF GREED:
Greed can be costly and can ruin opportunity. I have seen this happen recently where a Seller was unreasonable and overly competitive, leading them to lose a good solid offer. Unfortunately, the next offer was nowhere near as rich and it cost them $20,000. Work with an Expert Negotiator and strategize for a little give and not all take!  The open market will determine your value and your value is stronger than ever these days.  When you have a collaborative negotiations expert who works towards win-win, that does not mean you lose.
Have a pre-listing inspection done and stage within your means. A Strong Listing Realtor will know what is doable for your circumstances and will add value. Consider leaving the home if possible, removing pets, for a few days if back-to-back showings are likely.
·

        
USE A LISTING SPECIALIST: 
Work with a PROFESSIONAL who specializes in listing and has a strong strategy to bring your property to the market. This will include detailed knowledge of the micro-environment of your location and market activity, an established marketing program, a dynamic social media presence and a good network behind them.   Work with a Team that goes the extra mile with services and resources. ASK QUESTIONS and INTERVIEW your potential Realtor through a LISTING PRESENTATION and find the right fit.  Ask your Realtor how they handle competition because it is an incredible skill that is honed through experience and serious training in NEGOTIATIONS.
Need Help? Further Questions? - Call Suzanne 705-706-3329