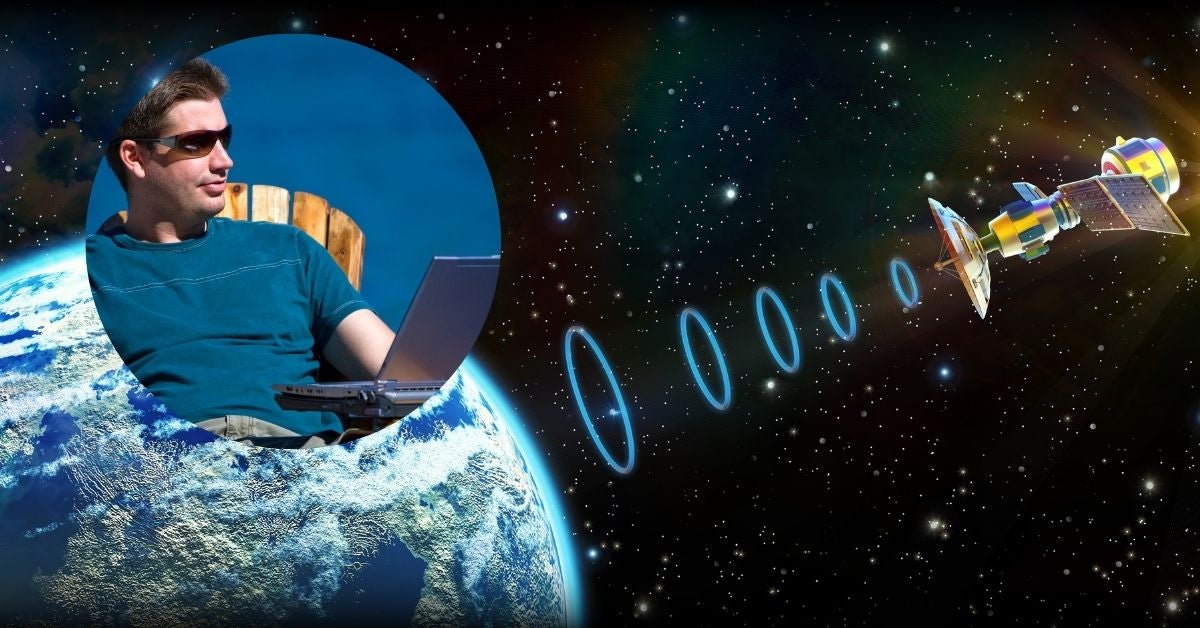 Step by Step Navigation through the Choices in Your Area
When it comes
to internet service
, finding the right
provider
can be a daunting task. Add
Muskoka
to the equation and it becomes almost impossible for most of us to understand why some are still experiencing dial-up speeds in 2021, while others, who live just up the road, are fully immersed in the high-speed internet living experience of Netflix, online gaming and Zoom calls, all at the same time.
Government Funding for New Infrastructure in Muskoka
First High-Speed Internet Service was brought to Muskoka in 2008 to Bracebridge, Gravenhurst, Huntsville and Lake of Bays. Since then, in spite of many expansions and upgrade projects, there has been a significant gap in the speed of internet service between in-town and rural Muskoka communities. 
In 2019, recognizing the importance of closing this gap, the federal government made a commitment to give every Canadian access to 50 megabits (Mbps) of download speed and 10 megabits (Mbps) of upload speed. This commitment of delivering a 10x faster speed came with a healthy budget, awarding local and national internet providers with projects to upgrade and expand the infrastructure in Muskoka. The government also mandated to make it affordable to all residents in the area – in-town and rural, alike. This initiative became known as Closing The Connectivity Gap.
To learn more, check this statement from the Minister of Rural Development: here
Internet access in Muskoka was recognized as a key focus area for improvement
by the Muskoka Economic Recovery Task Force (MERTF) in June 2020. As a result, a broadband sub-committee was created made up of
representatives from The District Municipality of Muskoka, a representative of the Bracebridge Chamber of Commerce, and the Mayor of the Township of Lake of Bays. Their objective was to identify regional service gaps and develop solutions to increase reliable connectivity for 100% of the homes, businesses and institutions throughout Muskoka. Check the link below for the latest updates. You are also encouraged to take a speed test of your internet service. W
hether you are a permanent Muskoka resident or seasonal, this will help to collect data for the region and devise solutions:
Recent commitment from the government, combined with advancement in technology, enabled several local, national and international internet providers to develop new
solutions to overcome the geographical challenges of Muskoka
terrain for both in-town and rural communities. Here is a list of the top 4 providers to consider:
1.

     
Lakeland Networks
– a local internet provider based out of Bracebridge.
·

        
Speed
- Currently provides 1 Gigabit High-Speed Fibre Internet in Bracebridge, the fastest available in Ontario. Simply put, you can transfer files 50 times faster than the average speed in Ontario. They recently expanded Fiber Optic service to other communities - Gravenhurst, Huntsville, Lake of Bays, Port Sydney, Parry Sound, Burks Falls, Sundridge and Utterson with further expansion plans announced earlier this month. 
·

        
For those Outside of Fibre Optic Coverage Area Wireless Internet is offered as an alternative solution with speeds are up to 50Mbps/10Mbps plans. There is a condition though - there must be a clear line of sight between the device they install on your house and the tower. A technician will come out to test the signal prior to installation at no cost.
·

        
Requires professional installation
The following image details recently upgraded wireless towers
 in Muskoka
for your reference.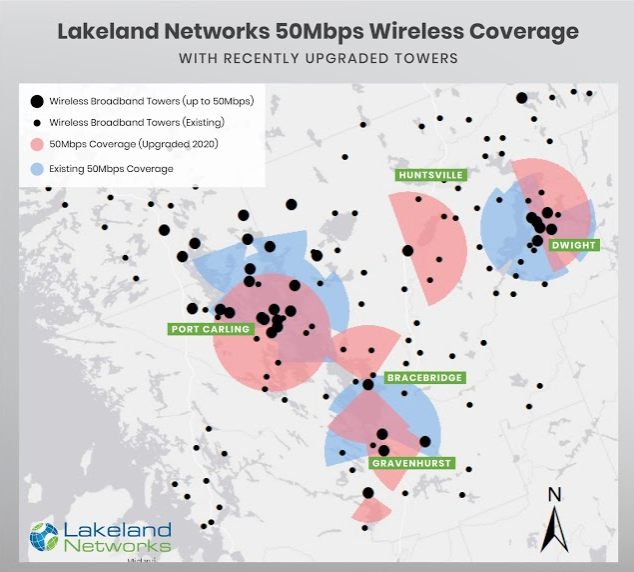 To learn more about Lakeland Networks and their plans visit their site here:
2. 
XploreNet –
a national internet provider specializing in rural areas, based out of New Brunswick.
·

        
Speed – wireless internet
technology is utilized with a maximum speed of 50Mbp/10Mbp.
·

        
Coverage
– wireless internet can be installed anywhere as long as there is a clear line of sight to the tower for signal transmission. This can be challenging in towns in cases of buildings or other obstacles.
·

        
Satellite service –
also available, if the signal transmission is not possible
·

        
Requires professional installation
·

        
Cost depends on your plan
To learn more about XplorNet and their plans visit their site here:
3.

     
Bell – a large national Canadian provider, based out of Toronto.
·

        
Speed
– Bells offers basic internet throughout Muskoka through its current cable technology, however, it is quite slow. The faster Wireless Home Service that was recently introduced is a much better option with faster speeds, however it is not available to all households in Muskoka since some of their
·

        
Coverage
– basic service of 5Mbps/1Mbps is readily available everywhere
·

        
Requires professional installation
To learn more about Bell and their plans visit their site here:
4.

     
Starlink
– an international internet provider, led by Elon Musk, based out of the US, launched its Beta Service in Canada in January of 2021. This technology is still in its early implementation stages but holds the biggest promise for rural areas.
·

        
Speed – between 50Mbps to 150Mbps during Beta period
. Starlink Satellites are 60 times closer to earth and are not bound by the traditional ground towers. Therefore have the lowest latency rate, the time it takes to send information from one place to the next.
·

        
Starlink device
communicates directly with the satellite it needs a clear view of the sky and therefore is not restricted or bound by structures on the ground.
·

        
Installation
is designed to be easy and can be done by the users once the kit arrives with the help of their app.
·

        
This service currently may have reached its capacity in some areas of Muskoka, however, there are plans in place for expansion.
To learn more about Starlink visit their website here:
There are many infrastructure projects that are currently in their various stages of progress in Muskoka, to close the internet service gap. I am thrilled at the choices we already have available for everyone to stay connected to their work, school, family and friends. It is safe to say, Internet Connectivity is no longer an obstacle for those considering making Muskoka their permanent home for their families and their businesses. 
If you are considering Muskoka properties for your family or your business and looking for information on the options and neighbourhoods, call me, your local real estate professional Suzanne Martineau, Re/Max Hallmark Realty ltd. Brokerage, 705-706-3329